What are the differences between Goat Yogurt and Milk Yogurt?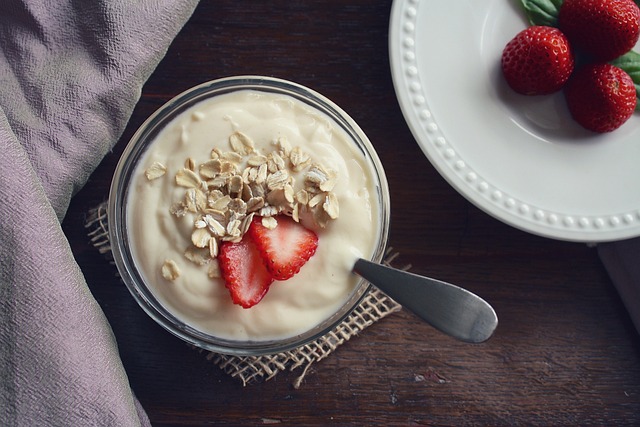 Yogurt is one of the tastiest & natural thing that we can eat for the benefit of our health. It is made using milk from many different animals, including cow, goat, and buffalo among others. However, the thing that is mostly discussed among the community goat yogurt vs. milk yogurt. We understand that you are looking for the same & our team is going to solve your queries in this post in detail.
Let's check out the complete post & understand the differences between each of them.
Goat Yogurt
Goat yogurt has picked up pace in terms of popularity in lots of western countries like United States, Canada, France, United Kingdom, and many more. Moreover, Indians have started to look this tasty food due to its softer texture & incredible flavor. On top of that, it has a pretty pleasant value with lower fat value & high protein rate. Using this yogurt as a substitute for the one made from cow is a wonderful thing to do. It is made using goat milk that is considered pretty rich for calcium & phosphorous.
There are lots of people who find it hard to digest cow milk products. Goat yogurt can turn out to be a blessing for those people. It boosts digestion along with offering a similar protein content & calcium to the body. Moreover, the taste is considered quite wonderful & considered better than cow yogurt. It may cost a little bit more, but we can guarantee that you will enjoy its taste & nutrition.
Major benefits of Goat Yogurt
The benefits offered by goat yogurt are quite long making it one of the premier choices among the community. If you are unaware of them, have a look at the benefits that we have written below:
1. Comfortable to digest
There are a great number of anti-inflammatory compounds available in the yogurt made using goat milk that makes things easier for the stomach. The people who have allergy with the cow milk can enjoy the taste of yogurt without putting any pressure on their stomach. Even many nutritionist & doctors recommend people with digestion problem to add goat yogurt in their diet.
2. Boost Energy Production
No matter one is a college-going adult or a working professional, everyone needs energy to complete the daily activities. Goat yogurt is a powerful food that comes with lots of vitamin B2 that allow the body to perform with a great sort of energy level. Additionally, it assists in storing energy in the body for future use.
3. Good nutrition value
There is a solid level of nutrients delivered to the body by eating goat yogurt. You will find an increased amount of calcium & phosphorous in this type of yogurt than any the one made using other kinds of milk. Unlike cow milk, it gets digested in your body without putting any pressure.
Cow Yogurt
No one can deny that the cow yogurt is a good alternative to the buffalo yogurt & used by people globally from centuries now. It may not have lower lactose than goat yogurt, but it is definitely lower than the goat yogurt. A bowl of fresh cow yogurt is loved by everyone in the morning thanks to its taste & nutrition value.
Cow yogurt is an impressive option to choose, but the thing that creates trouble for individuals is digestion related issues. Have a look at the major benefits of cow yogurt that we have mentioned below in detail:
1. Good for skin
The curd made from cow milk has a moisturizing impact on the face's skin & assists in healing in the skin naturally. It can turn out to be very beneficial for people dealing with acne. Moreover, this type of curd is used in many face packs.
2. Boost immunity
There are active cultures present in this type of curd that helps in fighting against germs & keep your gut super protected. It is strongly recommended by professionals to eat 200 grams of yogurt if you are dealing with immunity issues.
Major differences between goat yogurt and cow yogurt
As you have got information about both types of yogurts, we believe that now it is important to tell about why they differ from each other. Let's check out the table below:
                 

Goat Yogurt

                   

Cow Yogurt

Smaller fat molecules that help in making digestion easier

Extremely large molecules that make it difficult for the gut to digest it

Goat yogurt has a pretty distinct taste that gives something new to eat.

Cow yogurt has same boring taste as other types of yogurt 

It has a pretty creamy & buttery texture that is much better than cow yogurt.

There is normal thick cream missed in the cow yogurt.

Has a lower fat content that turns out to be a blessing for people working on the fat loss diet

High-fat content might cause trouble for individuals who want to get rid of fat in their body.

The amount of lactose in goat yogurt is found on the lower side.

The level of lactose is quite high in cow yogurt when compared with cow yogurt.

Available in a few flavors

Available in too many flavors

A little bit costlier than cow yogurt

Cheaper to buy in comparison with goat yogurt
That's all; you can see that the goat yogurt is the clear winner here. You may have to spend a little bit extra money to shop for this type of yogurt but is worth by all means.
Conclusion
Goat yogurt needs to go a greater journey to tackle the popularity of cow or buffalo yogurt. Its astonishing nutrition quality & taste has allowed it to win the battle of goat yogurt vs. cow yogurt.