10 Must Have Royal Enfield Accesories for RE Owners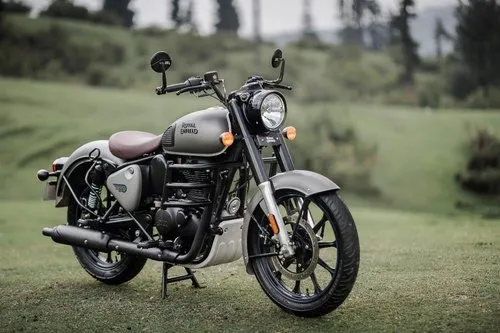 Top ten must-have accessories for Royal Enfield bike owners
Royal Enfield the ultimate dream riding bike of millions of people in India, it is more than a motorcycle to many. No bike lover can resist from the thudding noise of an Enfield. Royal Enfield enjoys unrivaled competition in its segment, the unique charm of this bike has attracted young buyers as well as mid-age Royal Enfield bike enthusiasts who owned previous models. 
Customization to Royal Enfield is inevitable these days, while many RE buyers are happy with stock bikes. Major Customization you would notice is, a change in silencer to rule the roads, there are other accessories easily available online. However, we advise all RE owners to be aware of online accessories because it may hamper the bike's performance or safety. 
Here's a list of easily available accessories below 1000 Rs to transform your bike into a stunner. 
10 Must Have Royal Enfield Accesories
Probiker Half Finger Motorcycle Riding Gloves 
RE owners like to cruise around city or outskirts, and more often bike rides have increased especially a group of RE bikes owners would like to travel countrysides. There are many RE clubs who organize long rides so make sure you always wear a riding glove. Royal Enfields are heavy cruiser motorbikes and a lot of vibrations creep in onto the handlebar, surely, you will not want your ride experience to deteriorate. Wearing a good quality pair of gloves will help you to minimize the vibrations that you feel on your hands, this will motivate you to go even further on your ride, while your bike munch up the miles.  
https://www.amazon.in/dp/B00OLNW01O/ref=sxr_hf_srt_8?pf_rd_m=A1VBAL9TL5WCBF&pf_rd_p=1537244307&pd_rd_wg=jjAZo&pf_rd_r=X6R9JXDM2W8TTP816VHF&pf_rd_s=desktop-rhs-carousels&pf_rd_t=301&pd_rd_i=B00OLNW01O&pd_rd_w=TmXDt&pf_rd_i=royal+enfield+accessories&pd_rd_r=efa10505-cce9-494b-b2e0-852eff4cafd7&ie=UTF8&qid=1510383463&sr=8
This pair of gloves have a very sporty stance while wearing these, half of your fingers are exposed which helps in maintaining a better grip on the bike's throttle, brake lever, and clutch lever.
Features.
Ergonomic design: These gloves are designed to give the best comfort and functionality at the same time, the material used to make these gloves provides utmost comfort, it is a very smooth material to eliminate any kind of skin irritations.

Hard shell protection: in case, you are riding through traffic and some vehicle hits your handlebar, these gloves got you covered with its hard shell coverings.

Breathable mesh design: to allow air to pass through the glove, it uses a mesh-like a scheme. It makes you feel more comfortable on long rides.

It features a rubber blocked sliding for optimum protection.

More than 2000 customer is satisfied with this product and it has a 4-star review rating. 

The wrist velcro adjustment makes it super easy to adjust and wear.

At just 200 bucks, it's a bank for a buck deal. 
Generic (unbranded) Neoprene Half Face Bike Riding Mask 
 This product would surely help in long rides to Goa, Kerala, and other beautiful places. Bike riding mask will protect you against cold, dust, wind and sun, there is cut open for breathing. Cover up your face by opting this bike mask, RE riders this is a must accessory to keep you in safe. Being a bike rider, you must have planned to visit your favorite places in the nearing summer vacations or just owning a Royal Enfield, is more than tempting to go to Ladakh and get "Leh-d". this mask will ensure that you stay comfortable in all the situations.   
https://www.amazon.in/Generic-unbranded-Neoprene-Riding-Black/dp/B00MYYFMP8/ref=pd_bxgy_263_img_3?_encoding=UTF8&psc=1&refRID=QERASC7T3K4NJ0H2WG04
Features
optimum protection for winter, summer: it will keep you isolated by the dust and pollutants in the traffic filled city roads. Also, this will keep you warm while you are on a ride to the nearest hill station. 

Warm & lightweight: the material used in making this mask has a smooth, anti-irritant texture and is very lightweight at the same time. 

Cover up the full neck: you can prevent dust from getting on your neck by using this mask

Ventilation system: this is the main highlight of this product. it features air ventilation for better breathability. 

The cost of this product is below 100 Rs, which makes is very assessable also.
Generic Combo of Indicator, Eyes, Tail and Head Light Grill 
Parking your bike in Bangalore city limits can damage your indicators as every parking space in Bangalore is tight. Most of us would have experienced this while taking your bike out from tight parking you may damage your own bike or do damage others it's common right! Well, be the first one to protect headlight, tail brake light, and indicators today. This product helps you guard HeadLight, Tail brake light and indicators, the strong metal saves you in any mishaps. Also, it will give your bike a unique and distinctive look.
https://www.amazon.in/Generic-unbranded-Indicator-Enfield-Classic/dp/B01DMUUCHA/ref=sr_1_4?s=automotive&ie=UTF8&qid=1510395098&sr=1-4&keywords=royal+enfield+accessories
Features
Compatibility: this product will provide the same fit on almost all the Royal Enfield bikes

Quality: the metal used in making this product is very strong, rigid and high quality to provide protection as well as durability.

Looks attractive: it will give your bike a unique and distinctive scheme which looks appealing to the eyes.

Provides protection: this product will help you in protecting your tail light, headlight as well as side indicators.

Affordability: At just 550 Rs for the whole package, it is very affordable and will work as a small investment for your bike.
Speedwav Bike Leatherette Back Seat Saddle Bag 
Saddlebags are designed in such a way that it is a must have product for all Royal Enfield owners. Benefits of having saddlebags are that you can carry a bottle of water to stay hydrated and place in some snacks with this product there is no need for an opening backpack every time. If you are out for long journey this saddle bag could help you in storing the map, flashlight and much more.
https://www.amazon.in/Speedwav-Leatherette-Black-Royal-Enfield-Classic/dp/B01B7QTJF2/ref=sr_1_6?s=automotive&ie=UTF8&qid=1510395098&sr=1-6&keywords=royal%2Benfield%2Baccessories&th=1
Features
Stylish and Upmarket: this product increases the retro design factor of an Enfield. keeping aside its benefits, you can buy it for the looks only.
Leatherette Seat Carry Saddle Bag: the material used has a leather texture, which perfectly matches with the retro appeal of your bike. 
Available in 3 different colors to suit your bike color so you can choose whatever suits your bike the most.
This product will cost you just about 200 – 500 Rs
HMRA Power BRPMB1 High-Quality Pillion Backrest
Most of the RE bike model comes without backrest except Thunderbird. Riding RE bike is enjoying why don't you get it one and make it a smoother ride for pillion rider too. You can fix it by yourselves with the tools available in the bike. 
https://www.amazon.in/HMRA-Power-Quality-Pillion-Backrest/dp/B01C992FPC/ref=sr_1_24?s=automotive&ie=UTF8&qid=1510395931&sr=1-24&keywords=royal+enfield+accessories
Features
Compatibility: this product is compatible with almost all the Royal Enfield bikes out in the market.

Easy fitting accessories: you yourself can mount this product on our bike with minimal requirements of tools.

Safety to pillion rider: in case of a jerk or rapid acceleration, this will protect the pillion from falling off the bike. Also, the padding used on the top of the backrest will ensure that the riding comfort of the pillion is not compromised. The pillion can comfortably sit on the bike while enjoying the long rides to the ghats.

Good quality: it is made with attention and the material used is of good quality.

Long lasting: this product is highly durable, it is a one-time investment. There are very fewer chances of its breakage in a span of at least 5 years.

You can buy this product at just 400 Rs and considering its quality and durability, it is a good investment.
AutoSun Bar End Mirror Rear View Mirror Oval For Royal Enfield
For those who don't want the company fitted mirror placed on your bike, have a look at end bar mirror it is worth considering because it looks stylish and upmarket. This product has dual advantages one it can change the look your bike and other it meets the safety rules.
https://www.amazon.in/AutoSun-Mirror-Royal-Enfield-Classic/dp/B06XQLHF2L/ref=sr_1_15?s=automotive&ie=UTF8&qid=1510399086&sr=1-15&keywords=royal+enfield+accessories
Features
Easy to Attach: they can be attached on the handlebars without the need of any drill or wield. You can easily mount it yourself if you have all the required tools.  

High-Quality Mirror: the mirrors offer a good view of what's behind.

Perfect Fit – Gives New Look: increases the visual appeal of your bike.

Choose from Multiple Color and all colors are Attractive: you can choose from a wide range of color what suits your preferences the best.

You can easily get a pair of this product at just about 600 – 650 Rs.
Generic Unbranded Bike Chain Cleaner Brush
For hardcore bikers this product under 1000 price tag is must have, to ensure smooth ride clean your chain by using this product and lubricate with chain spray. Now you don't have rush toward local mechanic for chain cleaning. Do it yourself!
https://www.amazon.in/Generic-Unbranded-Chain-Cleaner-Brush/dp/B01N9LMGAX/ref=sr_1_23?s=automotive&ie=UTF8&qid=1510399086&sr=1-23&keywords=royal+enfield+accessories
Features 
Durable and powerful: the bristles of this product are made to withstand the impacts. And the brush itself is made of high-grade plastic. 

Made of high-quality nylon 

Excellent design, to clean your chain thoroughly: the brush kind-of grabs the chain to ensure the proper cleaning of chain.

Price 200 – 250 Rs
Bikers World Silencer Exhaust Rubber
Every RE bike owners are crazed by their exhaust sound by installing high decibel sound emitting silencers. Cover up your silencer end with this rubber exhaust, this can ensure safety to the silencer and your bike always sounds higher on roads. You will not believe that this product is the most selling item online and come with a price tag of 90 Rs. Every RE bike is fitted with this rubber exhaust as it adds beauty to the bike.
https://www.amazon.in/Bikers-Silencer-Exhaust-Rubber-Enfield/dp/B018KH6ZZS/ref=sr_1_8?s=automotive&ie=UTF8&qid=1510399086&sr=1-8&keywords=royal+enfield+accessories
Features
Vehicle Compatibility: Royal Enfield Bullet

Good quality: soft compound rubber is used to make this product.

Long lasting: it is a one-time investment for your bike.

Best price: at just rs 90 it is a must-have for your bullet. This product is worth buying.

Bestseller

Price 90 Rs 
Sheeba SCAIO07 All-in-One Multipurpose Liquid Polish
The best accessories to keep your bike shiny and clean anytime is Sheeba multipurpose liquid polish in your home. This product can keep your bike shiny for weeks, and helps you save money on Teflon coating offered by authorized RE service center. This product can last up to 50+ wash, and is worth buying, for a clean and spotless bike. Maintain the stride of the Royal Enfield brand with polish.
https://www.amazon.in/Sheeba-SCAIO07-Multipurpose-Liquid-Polish/dp/B00TC5I66Y/ref=sr_1_19?s=automotive&ie=UTF8&qid=1510399086&sr=1-19&keywords=royal+enfield+accessories
Features 
It gives extra bright shine & new look to your bike: it will help you in retaining the original shine of a new bike. It gives your bike a more neat and tidy look and boosts the visual appeal.

Protects metal body and other plastics: it also provides protection from certain plastic parts. It prevents the fuel tank from getting any scratches.

Easy application, easy to apply and simple to buff 

Fewer efforts needed: you can apply it on your bike with minimal effort and you will get the smooth finish, you are looking for. 

Long Lasting – Leaves a long-lasting protective film.

Multi-purpose – you can use it for both bike and cars

Price 130 – 150 Rs
Seat covers
The original seat from RE can be damaged by external factors like normal wear and tear, so protect your seat covers by adding additional reliable seat cover without much difficulty. The rugged and strong material used in this seat cover ensures durability and last long. Buy one and enjoy a beautiful ride. Also, the extra cushioning provides by these cover will make your bike more comfortable.
https://www.amazon.in/BikenWear-Cover-Royal-Enfield-Classic/dp/B00YRORHGK/ref=sr_1_22?s=automotive&ie=UTF8&qid=1510399086&sr=1-22&keywords=royal+enfield+accessories
Features
Vehicle Compatibility: this product can be used for any model of the Royal Enfield range.

Good quality: the material used in making these covers are of an optimum quality to give your bike a little bit more premium feel. 

Long lasting: these cover will protect your seats for a long time. 

Price 250 – 270 Rs 
Conclusion
This article helps you in finding the right accessories at an affordable cost, every listed accessory comes under the price tag of below 1000 to be precise it cost you just 2500 Rs if you buy all the products at once. Happy riding!!